Allergan Rfrsh Contcts Size .4 Oz
Allergan Rfrsh Contcts Size .4 Oz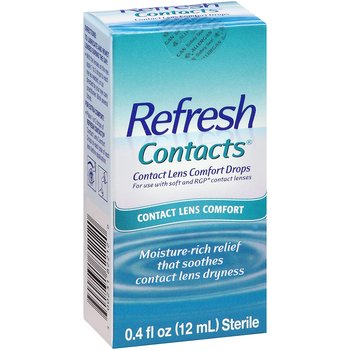 Item Description
Sterile. For use with soft and RGP contact lenses. Moisture drops for dry eyes. Refresh brand - the easy answer for dry eye relief. Refresh Contacts Contact lens comfort drops instantly moisturizes and soothes dry eyes caused by soft and rigid gas permeable contact lens wear. Utilizing a unique, long-lasting lubricant, every application creates a liquid cushion that comforts and protects. Refresh brand uses the safe and gently preservative Purite. Note: Bottle filled o approximately 3/4 capacity. This preparation contains no chlorhexidine, no thimerosal, and no other mercury-containing ingredients.
Item Specifications
About Us
Shut Shop is a trusted online retailer for people who want their products delivered in a fast and professional manner. Our customers are our number one priority which is why we carefully pack and ship out our products in the most secure way possible. If you have any questions please feel free to contact us and we will get back to you as quickly as possible. Thank you for shopping with Shut Shop.
Payment Policy
Thanks for your purchase! Please pay promptly via Paypal. Let us know if you have any questions.
Shipping Policy
Free standard shipping and expedited shipping available. We ship out in 1 business day Monday through Friday.
Return Policy
Returns accepted within 30 days after receiving the item, refund given as money back (no exchanges), return shipping to be paid by buyer.
Condition: New