Carmex Cold Sore Treatment, 0.07 Ounce
Carmex Cold Sore Treatment, 0.07 Ounce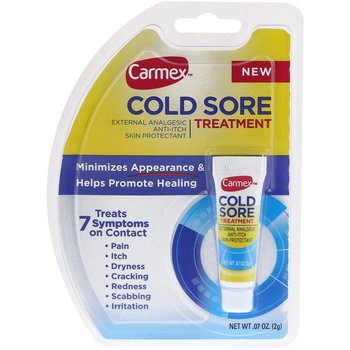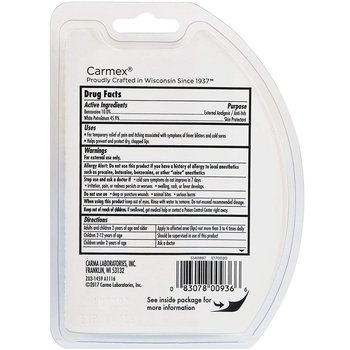 Item Description
For over 80 years, Carmex lip balm has helped soothe and relieve dry, chapped lips. Now, with Carmex Cold Sore Treatment, we've created a formula to relieve the 7 worst cold sore symptoms. Plus, it works on contact to both minimize the appearance of the sore AND help promote healing. Trust Carmex and get back to doing the things you love.
Item Specifications
Creamy formula glides on smoothly to minimize appearance of cold sores
Helps promote healing of cold sores
Treats 7 symptoms on contact: Pain, Itch, Dryness, Cracking, Redness, Scabbing and Irritation
Recommended for adults and children 2 years of age and older
For treatment of symptoms associated with cold sores. Product does not treat viral infections or heal cold sores. When used to help conceal. Individual results may vary. For external use only. Use only as directed.
About Us
Shut Shop is a trusted online retailer for people who want their products delivered in a fast and professional manner. Our customers are our number one priority which is why we carefully pack and ship out our products in the most secure way possible. If you have any questions please feel free to contact us and we will get back to you as quickly as possible. Thank you for shopping with Shut Shop.
Payment Policy
Thanks for your purchase! Please pay promptly via Paypal. Let us know if you have any questions.
Shipping Policy
Free standard shipping and expedited shipping available. We ship out in 1 business day Monday through Friday.
Return Policy
Returns accepted within 30 days after receiving the item, refund given as money back (no exchanges), return shipping to be paid by buyer.
Condition: New