Kaz WF2 Replacement Wicking Filter
Kaz WF2 Replacement Wicking Filter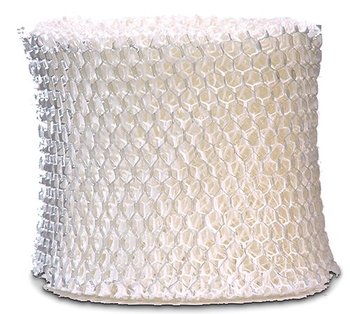 Item Description
Removes minerals and pollutants from water. Antimicrobially treated filter.* Helps prevent the growth and migration of mold, algae and bacteria on filter. Reinforced for longer filter life and maximum efficiency. *Based on internal laboratory test report #SM211AF. Results are based on reduction of the following on the wick: Up to 99.996% reduction after 96 hrs of continuous use compared to the untreated wick. This filter is treated with Aquastat XR, an antimicrobial agent contained in this product which is intended to prolong life only by inhibiting the growth of unsightly mold, mildew and algae, as well as controlling odors from odor-causing bacteria on the filter. The antimicrobial in the filter does not protect users or others against bacteria, viruses, germs or other disease-causing organisms. Fits models: Vicks: V3100, V3500, V3500N, V3600, V3700, V3800, V3850, V3850JUV, V3900 & V3900JUV; Kaz: 3020; Sunbeam: 1118, 1119 & 1120; Honeywell Evaporative: HCM-630, HCM-631, HCM-645, HCM-650, HCM-300T, HCM-315T, HCM-350, HCM-350B, HCM-1000, HCM-2000, HCM-540 series, HCM-710; Enviracaire: ECM-250i, ECM-500; ReliOn: WA-8D.
Item Specifications
Removes minerals and pollutants from water.
About Us
Shut Shop is a trusted online retailer for people who want their products delivered in a fast and professional manner. Our customers are our number one priority which is why we carefully pack and ship out our products in the most secure way possible. If you have any questions please feel free to contact us and we will get back to you as quickly as possible. Thank you for shopping with Shut Shop.
Payment Policy
Thanks for your purchase! Please pay promptly via Paypal. Let us know if you have any questions.
Shipping Policy
Free standard shipping and expedited shipping available. We ship out in 1 business day Monday through Friday.
Return Policy
Returns accepted within 30 days after receiving the item, refund given as money back (no exchanges), return shipping to be paid by buyer.
Condition: New