Mommy's Bliss Baby Probiotic Drops, Flavorless, 0.34 Fluid Ounce
Mommy's Bliss Baby Probiotic Drops, Flavorless, 0.34 Fluid Ounce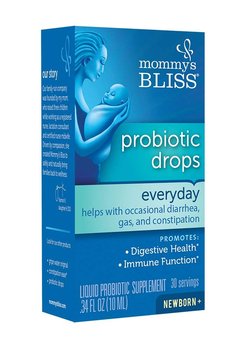 Item Description
Mommy's bliss baby probiotic drops are a natural immune builder while helping growing tummies with the introduction of food, indigestion, gas, diarrhea, constipation and may also ease symptoms in colicky babies, including reducing crying time. Mommy's bliss baby probiotic drops contain the live culture lactobacillus rhamnosus gg, the most widely studied probiotic in the world with over 800 scientific publications attesting to the safety and healthfulness of these beneficial bacteria. Pediatrician recommended nationwide.
Item Specifications
Unique micro-encapsulated probiotic (flavorless) liquid formula safely and naturally promotes a healthy digestive system and improves immunity
1 billion lactobacillus Rhamnosus gg cells per serving; 30 servings included
Pediatrician recommended - trusted brand for digestive solutions
Most clinically studied probiotic strain with over 800 scientific studies worldwide
100% natural, 100% vegetarian and vegan; no additives, chemicals or parabens; no artificial flavors or colors; no dairy, gluten or soy
About Us
Shut Shop is a trusted online retailer for people who want their products delivered in a fast and professional manner. Our customers are our number one priority which is why we carefully pack and ship out our products in the most secure way possible. If you have any questions please feel free to contact us and we will get back to you as quickly as possible. Thank you for shopping with Shut Shop.
Payment Policy
Thanks for your purchase! Please pay promptly via Paypal. Let us know if you have any questions.
Shipping Policy
Free standard shipping and expedited shipping available. We ship out in 1 business day Monday through Friday.
Return Policy
Returns accepted within 30 days after receiving the item, refund given as money back (no exchanges), return shipping to be paid by buyer.
Condition: New